We now only breed Dachshunds. We are a Kennel Club accredited breeder and fully licensed. All puppies are well socialised and handled, and are tested for hereditary defects that are applicable to the breed. All puppies have their first inoculations, are micro-chipped, wormed and checked by a vet before leaving us. All puppies are also insured for four weeks and a signed contract is given with each puppy.
The long-haired and miniature long-haired
dachshunds
, in my opinion, are the kindest and most biddable of all the dachshunds. Having owned them for almost 40 years, they make ideal companions for young and old alike.
The standard size is a better family dog, and gets on well with children, although the miniature is fine, he is much smaller and I am always afraid that young children will treat them as toys and drop them. They tend to be very popular with older people who need an easy little companion to share their lives. The coat on both varieties is very easy to look after, it just requires a weekly brush and comb, and the occasional bath.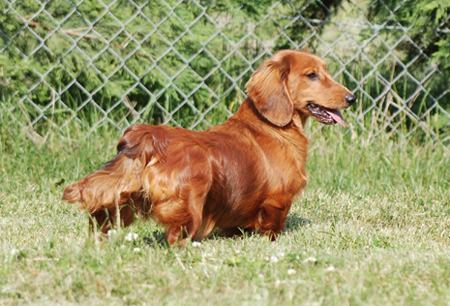 The Kennel Club standard describes the dachshund as a breed that comes in six varieties, they differ both in size and coat. The standard sized dachshund can weigh as much as 26lb, the miniature around 11lb. Each size splits into; smooth-haired, long-haired and wire-haired. Temperamentally all six are good at giving a good account of themselves as guards of property and their relatively low stature should never give anyone the idea that they are easy meat for the criminally intended. With their family and friends they make wonderful companions, but firmness is needed during their early training as they can be notably independent. In general, they are faithful, versatile and good tempered.
Characteristics: Intelligent, lively, courageous to the point of rashness and obedient. Especially suited to going to ground because of low build, very strong forequarters and forelegs, long strong jaw and immense power of bite and hold, Excellent nose, persevering hunter and tracker.
For almost as long as I can remember, there has always been a dachshund and a Labrador somewhere in my life. No matter what other breeds, bred or worked with, the little dachshund never seems to go away, always loyal, devoted and obedient. He is like a little shadow always there watching, never intrusive. In those dark moments of despair that we all have at times, the dachshund will be there, just sitting, watching with those deep brown eyes, offering a gentle paw or a loving kiss, willing to sit and listen to your moans, or walk quietly by your side. He will play and run with you to bring joy and happiness to your heart once more. No other breed has been able to do it for me, in the way that the dachshund can.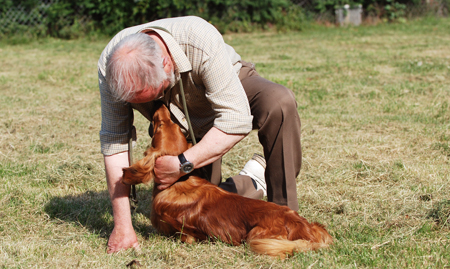 Our dachshunds, just like all of our dogs, are bred for temperament and health first, living as we do in the fens, all of us dogs and humans live fit active lives, coping with whatever the elements throw at us. Dachshunds may be low to the ground but they can move very well and at times very fast,
Our little lot are a very fit bunch and live to ripe old ages and rarely see a vet except for routine inoculations and health checks before breeding. They are always happy to see visitors by appointment.
Our miniatures are all tested clear of PRA.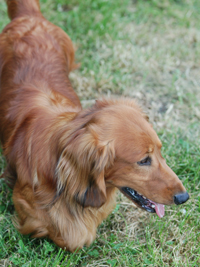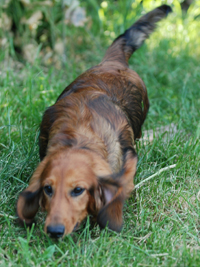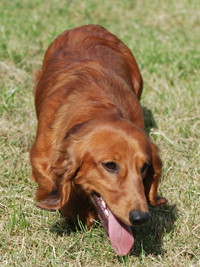 Back to top